Wood House in Costa Rica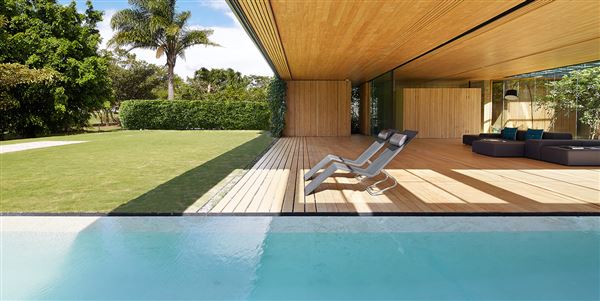 ---
---
Santa Ana, Costa Rica
US $2,180,000
---
---
The Wood House exemplifies a new concept in functional materials-driven design, featuring bold characteristics with local woods and glass walls. This luxury designer home combines nature with arquitectural structures. Beautiful interior gardens will inspire and transport your mind through the 1320 m2 of lot and 651 m2 of construction.

This house offers a bold concept for daring people. Each corner of the house is meticulously detailed, creating an ambience of stylish living with a care for nature. The Wood House establishes an uninterrupted ¨inside-outside ¨ relationship; a sequence of layers between the open and the intermediary. Frontal boundaries are blurred by sheets of glass and vegetation, framed by two horizontal planes, floor and ceiling, where the full and the void are related via a series of matter, water, vegetation and sky. Lateral boundaries establish the ¨full-void ¨ relationship via a series of solid materials that close transversal views.

Wood House has 4 bedrooms plus a spacious office, a spacious living room, a spacious kitchen a splendid terrace and a comfortable space that can be used as TV/family room or gym. It also has a 25m swimming pool that starts in the inside of the house and leads outwards. Absolutely breathtaking. All bedrooms are arranged along the peripheries bordering the neighbors, leaving an intermediate space between volumes for social uses: kitchen-dining, living room, swimming pool, porch and barbecue. All the while, the existing trees remain, uncompromisingly piercing the spaces they occupy.

The ample living room spaces glow with natural lighting provided by the craft-designed ceiling with glass windows that bring joy to the rooms.

The kitchen table and the kitchen itself shapes a sculptural floor that presides over the social zone. The black gloss of the Absolute Black granite dematerializes, through its reflections, the gesture of formal forcefulness. This house responds to the existing features of the landscape and reveals new dimensions of the topography of place. In its formalization and materiality, the experience of light, shadow, earth, water and air is intensified. The general form is readily readable and fluid in its articulation of space. The Wood House in Valle del Sol boasts high-end BOSCH appliances and ROCA fixtures throughout.

Other than a few big, strong columns, Wood House has practically no walls. Its boldness swirls around the concept of openness; a see-through concept like nothing you've seen before. Nature is your cover up and your protector in this designer home. Trees and green areas surround the Wood House, making your living experience a complete adventure.
Approximate Square Feet: 7013 ft
Architectural Style: Contemporary
Web id: ESTW
MLS#: LXER10081
Approx. Sq. Ft.: 7013
Bedrooms: 4
Bathrooms: 4
Company
+506 8824 1903
Office
+506 8824 1903
Agent
Clari Vega +506 8824-1903